Blanaid O Regan is SIRO's Director of People & Culture. SIRO is a wholesale broadband operator rolling out a 100% fibre-to-the-premise, gigabit broadband network across Ireland. Established in 2015, SIRO is a joint venture between ESB and Vodafone that aims to bridge the digital divide by providing sustainable, future proofed connectivity.
Sustainability and its practices have flooded news feeds and conversations in recent years as people and businesses grow increasingly environmentally conscious. We are now familiar with the IPCC reports that indicate that we need to take urgent action in the next 10 years to limit global warming to 1.5°C above pre-industrial levels.
At SIRO, we have committed to a path to net zero by 2030. We have embarked on a sustainability programme focused on People and Planet.
What does it mean to be sustainable?
For us at SIRO, sustainability means working and living in a way which allows people to reach their full potential, whilst improving societal and environmental conditions. It manifests in multiple ways including promoting diversity, reducing emissions, reducing, and eliminating waste.
In 2015, SIRO began its journey to become Ireland's first 100% Fibre to the Premise operator, rolling out gigabit connectivity to 50 towns. In October 2021, we announced that we would be expanding our footprint, connecting to 154 towns and 770,000 premises in total.
Fibre is inherently greener than outdated copper broadband. Our 100% FTTP network is significantly more energy efficient (by up to 60%) and emits less carbon emissions (over 80% less). Our goal is to become the greenest network operator in Ireland.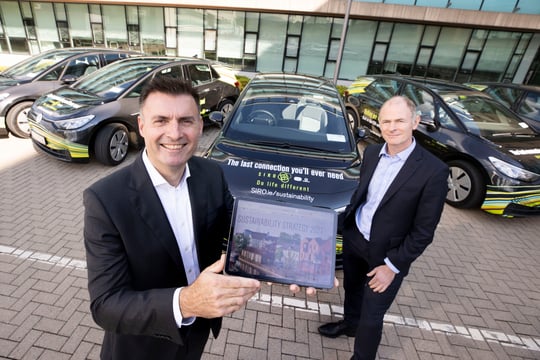 (L-R, SIRO CEO John Keaney and Minister for State with responsibility for Communications and Circular Economy, Ossian Smyth TD, at the launch of SIRO's sustainability strategy, September 2021)
Our Sustainability Goals
As Ireland's first and most sustainable fibre network, in 2021 we launched our Sustainability Strategy and signed up to the UN Global Compact, to provide a roadmap to guide our activities. Through the Global Compact we have identified three targets - climate action, zero waste, and gender balance at all levels of management.
We have already converted 60% of our fleet to electric and despite supply chain challenges, we remain on course to be fully electric by 2023. As a result, in 2021 we reduced our emissions by 29% and expect a more significant reduction in 2022. We have actions in place for indirect emissions around commuting, and the supply chain.
One of our main priorities is to reduce waste overall. So far, we have reduced our waste to landfill by 20% between 2018 and 2020 and we are targeting zero waste to landfill by 2030. We are also working on a project with ESB and Trinity College around recycling of construction waste which is a big challenge in the construction industry.
Environmental action is not enough unless we create an equal society, and our social agenda is focused on creating gender balance at management levels. We have introduced a set of initiatives to support the development of women in the workplace from family support policies, gender pay gap reporting, unconscious bias training and coaching and mentoring for women within all levels of our organisation.
Our agenda goes beyond gender, and we have worked on creating opportunities for other under-represented groups including people with intellectual disability and refugees. Through our partnership with The Open Doors Initiative, we have rolled out disability awareness training.
In addition to bringing world class connectivity to the communities we roll-out our network too, we also strive to support those communities in other ways. We actively support STEM education through initiatives such as Junior Achievement Ireland programme and STEM TY work experience programmes.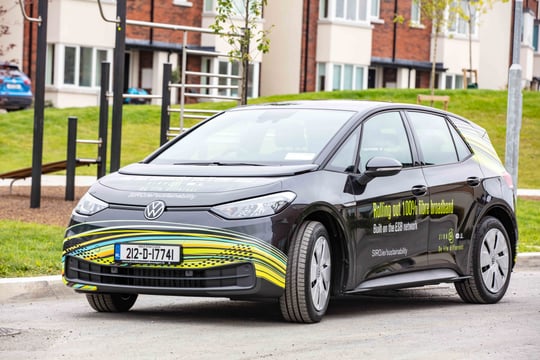 At SIRO, sustainability is part of our culture, we want to make the world a better place for ourselves and future generations. As we have made progress, we have reaped the rewards with greater employee engagement and retention. For us, sustainability is not just another buzzword, it is a call to action to make better, greener choices. We want our world to be future-proofed, just like our FTTP broadband.
To see if your business can connect to our 100% fibre broadband network, search your business Eircode today on SIRO.ie.