This Valentine's Day, we are encouraging everyone to 'Gift Guaranteed Irish' to their loved ones. By visiting and buying from Guaranteed Irish Members on GuaranteedIrishGifts.ie you are not only buying beautiful products from Irish companies, you are also supporting Irish jobs and communities.
To celebrate, we are running a Valentine's Giveaway on our Instagram Page (@guaranteed_irl), where you could win any of these amazing gifts from 5 Guaranteed Irish Members. Check out the prizes below, and head over to our Instagram page to find out how you can win.
ARNUA
Arnua makes beautiful, bespoke, hand-crafted jewellery from 100% renewable materials, with designs inspired by Irish history.
These uniquely-styled Ogham Anam-Cara (soul mate) pendants are handmade from sterling silver and come in a two piece set, made for couples. One is inscribed with Anam for soul the other with Cara for mate.
View this beautiful gift idea on GuaranteedIrishGifts.ie.
And to learn more about Arnua, listen back to founder Eoghan McGuinness on a recent episode of the Guaranteed Irish Business Podcast.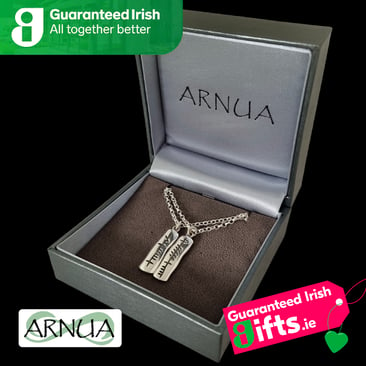 ARRAN STREET EAST
Arran Street East is a pottery & weaving studio in Dublin, known for hosting amazing workshops and classes, and for creating beautiful handmade ceramics.
This Valentine's 'Warmth Gift Set' consists of an Arran Street East Espresso Cup Set, a Badly Made Notebook, and a Rathborne's Grapefruit candle. Gift warmth with a morning espresso from Arran Street East's cute little cups with handles, a refreshing smell of grapefruit, and a notebook for their thoughts. 
The Espresso Set is designed to sit together in two complementary shapes, inward and outward sloping. 
All three pieces are hand-made in Ireland, the candles are hand-poured with soy wax by Rathborne's, and the notebooks are made from upcycled materials by badly made books.
View more amazing Arran Street East products on GuaranteedIrishGifts.ie
And learn more about Arran Street East in our recent podcast interview with their Managing Director Dobrawa Brach.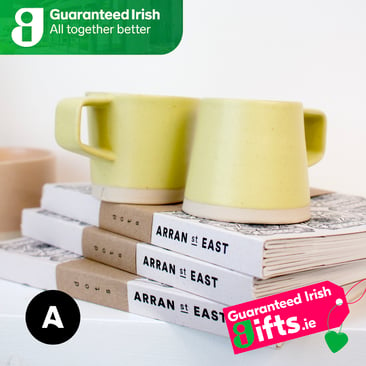 DUBLIN HERBALISTS
Dublin Herbalists is the natural skin care project that, seeded in a home kitchen, has sprouted into a flourishing business utilising the purest ingredients available to make natural skincare products accessible to all.
Dublin Herbalists have kindly put together this one-of-a-kind Valentine's Day Hamper to be won as part of our Valentine's Day Giveaway. Included in the hamper are the following products with a value of €110.75:
I AM...Bath Bombs; Body Oil; Hand Cream Gift Set; Bath Salts; Pumice Stone with Wooden Tray.
And be sure to check out more beautiful Dublin Herbalists Gifts on GuaranteedIrishGifts.ie.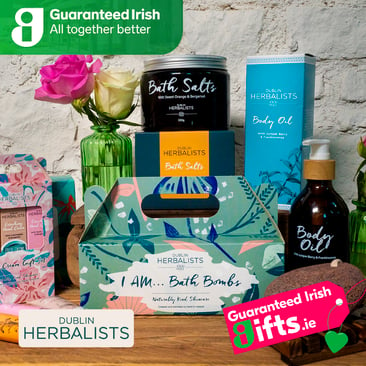 HAZEL MOUNTAIN CHOCOLATE
Hazel Mountain Chocolate is an Irish Craft Chocolate Makers, using simple sustainable and ethically sourced ingredients. They are Ireland's only bean-to-bar chocolate factory, based along the Wild Atlantic Way.
Hazel Mountain Chocolate have given us this Limited Edition Art & Chocolate Collection, in collaboration with artist Corrina Earlie and chocolate maker Kasha Connolly, to be won as part of our Valentine's Day Giveaway.
In the box you'll find beautifully wrapped four high quality reproduction cards of Corrina's newest paintings and 3 limited release chocolate bars. All cards come presented in a beautiful coral envelope and includes 4 postal envelopes.
Check out more beautiful Hazel Mountain Chocolate gift ideas on GuaranteedIrishGifts.ie.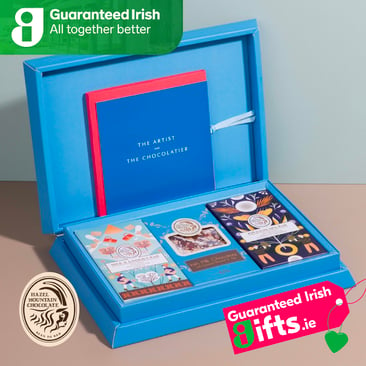 GROUND WELLBEING
GROUND Wellbeing products and 'rituals' were created with purpose and intention to deliver carefully developed massage treatments to bring relief from insomnia, anxiety, burnout, gut health, and menopausal symptoms.
This amazing 'Deep Sleep' gift set is the perfect way to invite sincere rest in, by immersing yourself in 100% natural blends. The Gift Set includes Deep Sleep Body Balm, Sleep Face Oil and Large Pillow Spray, and can be won in our Instagram Giveaway now.
To learn more about GROUND Wellbeing, listen back to our interview with founder Peigín Crowley on a recent episode of the Guaranteed Irish Business Podcast.

Gift Guaranteed Irish this Valentine's Day at GuaranteedIrishGifts.ie and remember every €20 spent locally is worth over €100 to the Irish Economy.