As climate change escalates (and is aggravated by our consumption habits), we ask you to opt for a sustainable gift, one that will be cherished and enjoyed for years to come. Thankfully, businesses in Ireland are making their best efforts to protect the environment. Guaranteed Irish member businesses are inherently sustainable given their contribution to the Irish economy, local communities and providing local employment.
GuaranteedIrishGifts.ie shop window now features a sustainability section where you can find Guaranteed Irish businesses who champion sustainable practice, providing authentic Irish, sustainable gift ideas.
Getting the Guaranteed Irish G under your Christmas Tree means you're gifting both your loved ones, the widespread community and the environment.
This week's gift guide brings you an assortment of sustainable gifts.
Milis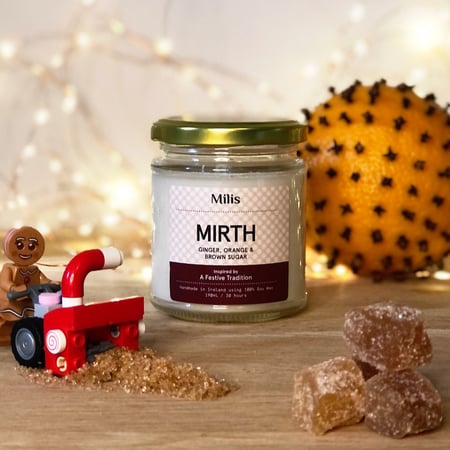 Milis is a creative small business, specialising in scented homeware products using natural, recyclable, and ethically sourced materials, found locally. Using 100% natural soy wax, wicks made from cotton and paper, a mixture of essential oils and fragrance oils which are vegan, paraben and phatalate free, Milis exemplifies sustainability. Further the beautiful glass jars used for candles can be easily re-used in the home. This Mirth winter candle boasts top notes of Ginger, Orange Anise inspired by a family tradition of ginger bread making. Shop this candle for €21 and many more home scents at www.mymilis.com.
EcoStraws.ie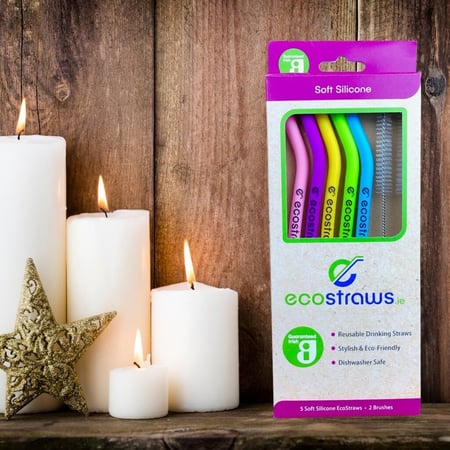 Are you fed up with disintegrating paper straws? Why not make the Eco-Friendly choice with soft silicone EcoStraws. These 100% recyclable and environmentally friendly, silicone EcoStraws make the perfect gift for your eco-conscious friends & family this Christmas. Each pack of 5 straws comes with 2 cleaning brushes and of course all EcoStraws products are Guaranteed Irish & Guaranteed green! Buy this pack of Silicone Straws with two cleaning brushes from from €9.95 at www.ecostraws.ie.
Urban Aran
Inspired by street art culture and urban walls of Ireland, gift the fashionista in your life this bold and bright coloured oversized jacquard cardie with a birds eye design on the reverse. Fully fashioned where possible meaning less wastage of yarn, this is a stand out design, providing a complimentary knitted belt for extra snuggles! This is an Irish design using 100% super fine merino, traceability certified, with a low environmental impact production cycle and mulesing-free yarn sourced in Italy. Every single piece is lovingly created by expert craftsmen, combining cool details and the highest quality of fabrics. Shop this cardigan for €295 and more at www.urbanaran.com.
Dr. Suraya Diaz
The Calm Box has a selection of the best Dr. Diaz pure, calming and natural products including Organic Tranquility Force, Organic Serenitea Force, Organic Kombucha Kefir Adaptogenic Force and Ashwagandha Herbal Complex. These complimentary products have been hand-chosen to bring you peace and tranquility. All products are certified organic, natural, and toxins, dairy and gluten free. The calm box is currently on offer at €46.78 at www.drsurayadiaz.com.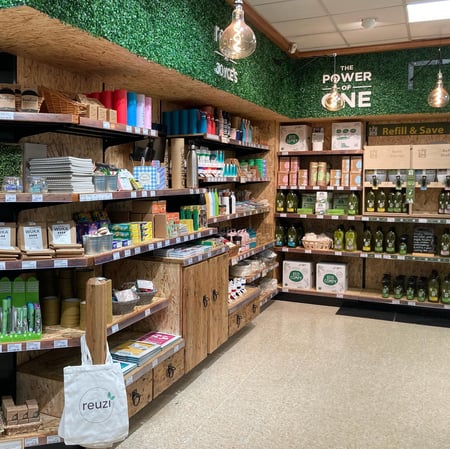 Find a variety of sustainable gifts at Reuzi, a one stop shop that encourages minimal-waste living. Reuzi want to help everyone take one extra step towards sustainable living – whether that means helping them get their first stainless steel straw to providing the tools and knowledge to transform their entire grocery shopping routine. Shop at Reuzi to discover a wide variety of brands who reflect the same ethos with gifts from under €10 at www.reuzi.ie.
Blakes Always Organic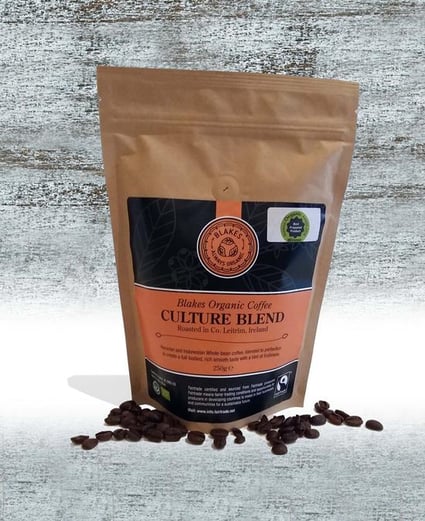 Sustainability is at the core of Blakes Always Organic values, creating organic products that are healthier and contain no pesticides or additives. Organic products are sustainable by nature and adhere to higher production standards, and even taste better too! Culture Blend is a blend of three Organic coffee beans designed to give your coffee a nice body, with low acidity, and a hint of sweetness. A perfect gift for coffee enthusiasts, shop these coffee beans and additional blends at www.blakesalwaysorganic.ie.
Tune in next week for our corporate gift guide!