The inaugural Guaranteed Irish Business Awards 2022, proudly sponsored by Permanent TSB, are just around the corner and there is a whirring sense of excitement building up behind the scenes here at Guaranteed Irish. In anticipation of the awards, taking place at The Shelbourne Hotel March 24th, Guaranteed Irish has selected the Guaranteed Irish Business Awards Trophy Partner for 2022.
Trophies will be a central feature of the event and will be awarded to winners to honour their excellence in business and contribution to Ireland, its people, and its economy. Recently, Guaranteed Irish launched a competition to source a talented Irish crafter to design and manufacture a show-stopping piece of art to honour the winners' success.
While the competition was very close given Ireland's highly talented design and craft industry, we are thrilled to reveal that Shane Holland Designs will be the Guaranteed Irish Awards Trophy Partner for 2022.
Shane's unique design entry is emblematic of Guaranteed Irish's core values, integrating locally sourced sustainable materials throughout the trophy design and aligning with Guaranteed Irish's overarching theme of sustainability for 2022.
Shane Holland is an industrial designer with 26 years of experience who works with a range of diverse materials with a formative background in specialist metalwork. His team of designers and makers work in his studio and workshop facilities in Duleek, Co. Meath, producing lighting, furniture, awards, and sculptural elements. Honing this skill over the years brings a certain quality to all of his projects and clients can be confident to receive excellent results.
The trophy will be made from three materials including native Irish beech from Wicklow, grange limestone from Donore, Meath, and repurposed acrylic offcuts from a signage factory. This 3D award features a prominent green Guaranteed Irish logo set on timber, whilst categories and sponsor information will be weighted down with beautifully honed native limestone making this a premium, Irish-designed and manufactured trophy, hand crafted by Shane Holland himself. Here is a sneak preview of the design: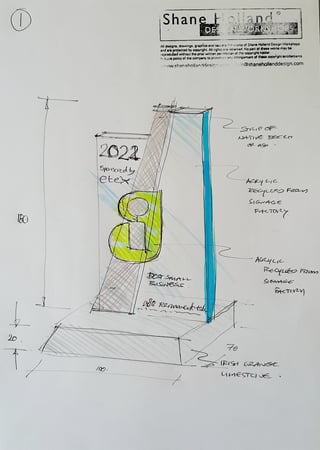 We eagerly anticipate the final design and look forward to working alongside Shane Holland and his talented team.
Learn more about Shane Holland Designs: https://shanehollanddesign.com/.